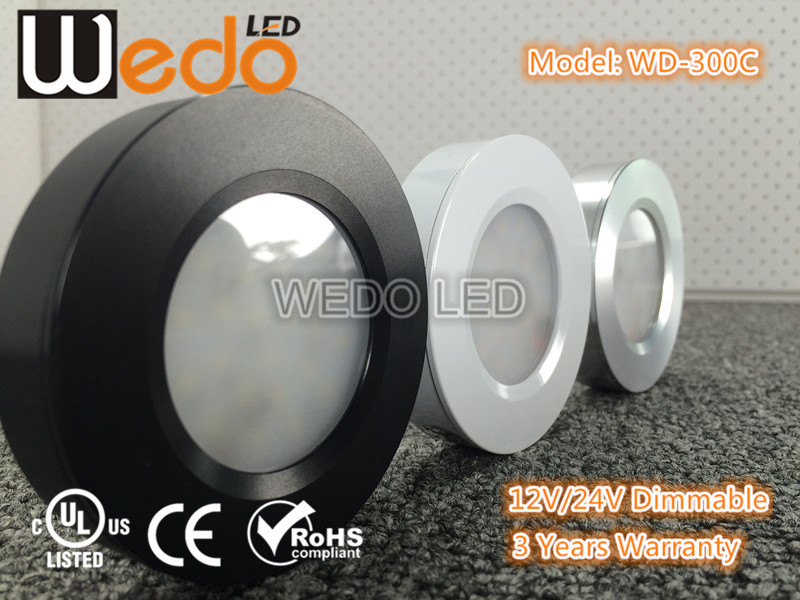 Detailed Product Description
WD-300C 3W Dimmable 12V/24V LED Puck Light Light/LED Under-Cabinet Light
MODEL: WD-300C
Product Name: 12V/24V SMD LED Puck Light
Power: 3W
LED Quantity: 24PCS Epistar 3014 SMD
Dimmable with 12V/24V PWM LED dimmer
Dimension: ¢69.2x(H)13.5mm
Beam angle: 120°
CCT: Warm White 2800-3300, Neutral White 4000-4500K, Cool White 6000-6500K
Color Rendering Index: CRI>80
Surface finish available: Silver/White/Black
Material: aluminum housing, PMMA Cover
Working temperature: 40℃ at room temperature 25℃
Ambient temperature: -40~50℃
Lumen Output
SMD LED Puck Light
LED CHIP BRAND
COLOR TEMPERATURE
LUMEN
Epistar
2800-3300K
230lm
Epistar
4000-4500K
240lm
Epistar
6000-6500K
260lm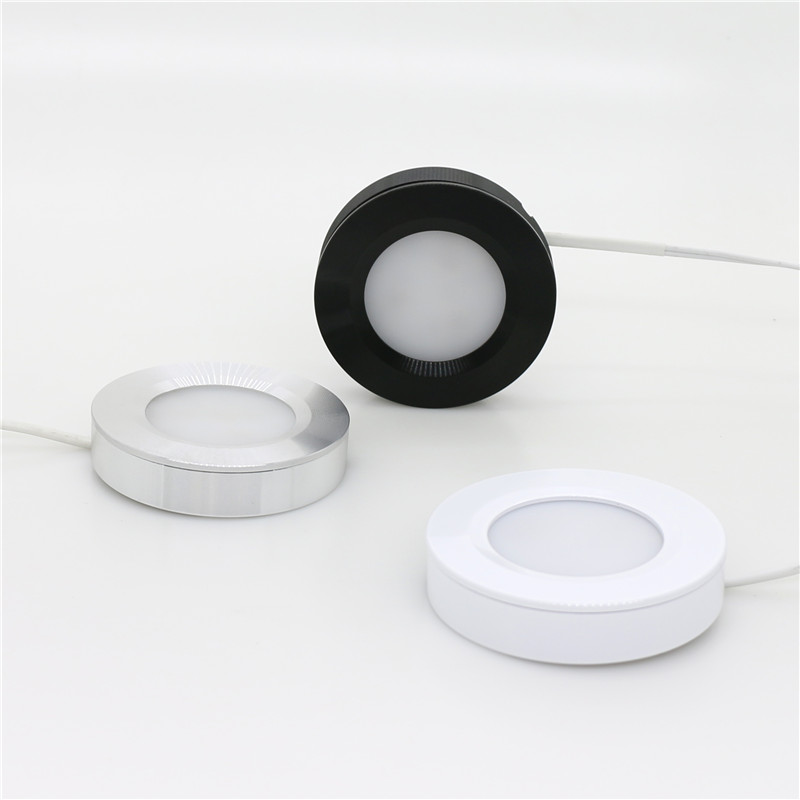 SMD LED Puck Light
Dimmension:
12V/24V SMD LED Puck Light
ELECTRICAL CHARACTERISTICS:
Electrical structure: 1 PCB + 24pcs 3014SMD + 350mA current regulator on the PCB
Input voltage: DC 12V/24V;
Power consumption: 3W
One 12V/24V power supply can work with a certain number of WD-300C those are connected in parallel (not in series), which it is limited by the max load of the 12V/24V power supply.
IMPORTANT NOTICE:
The total power consumption of the lights connected should be less than 90% of the max load of power supply.
SMD LED Puck Light Power Connection:
WD-300C is dimmable with 12V/24V PWM LED dimmer
SMD LED Puck Light

LIGHT DISTRIBUTION DIAGRAM: ISOLUX DIAGRAM:
SMD LED Puck Light WD-300C Cool White
SMD LED Puck Light WD-300C Warm White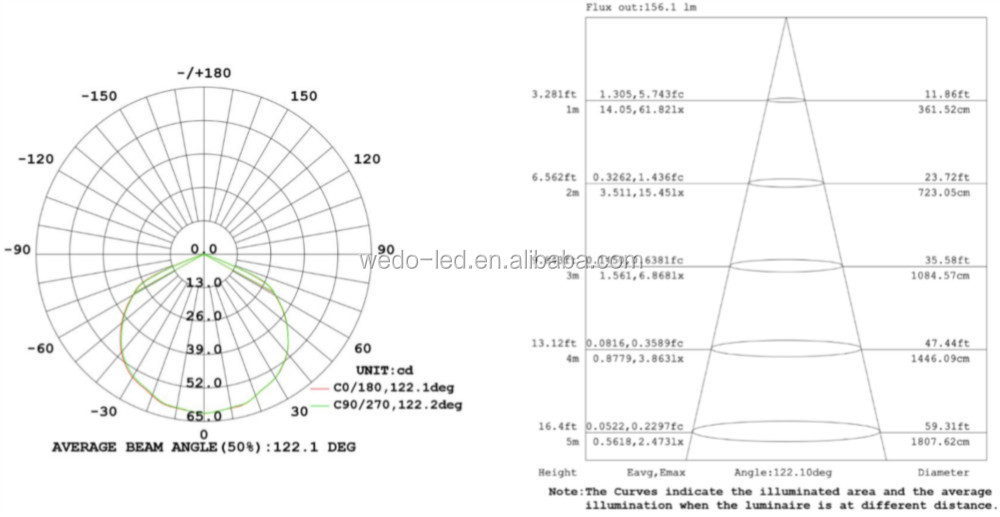 METHOD OF INSTALLATION FOR SMD LED Puck Light :
1. RECESSED MOUNTED
Cut a hole ¢64-65mm in the Puck, put the light in the hole, the light can be fixed by the spring
2. SURFACE MOUNTED
Take out the ring, fix the ring with two screws on the Puck, and put the inner part back into the ring.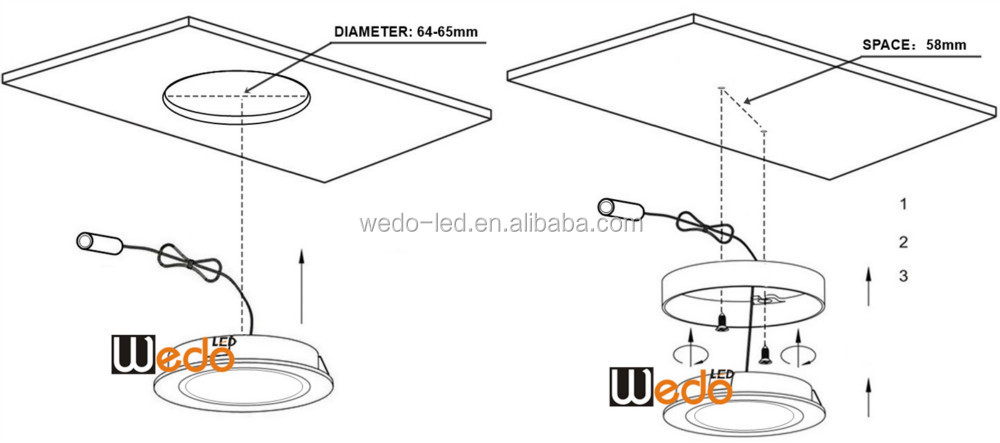 APPLICATIONS: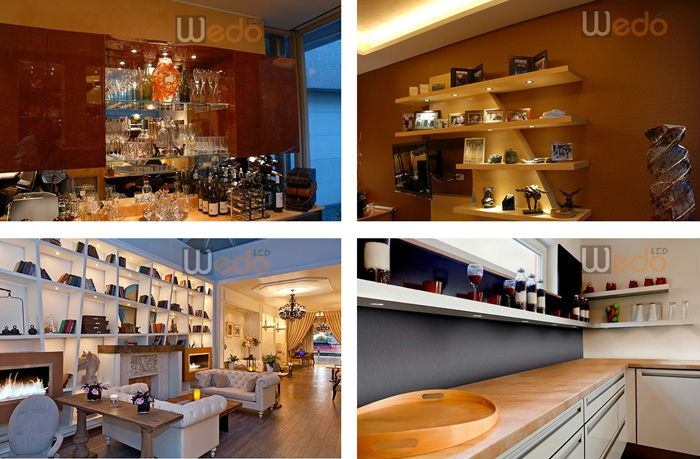 SMD LED Puck Light
Tag :
Dimmable SMD LED Puck Light-WD-300C
Contact Details
Other Products